The Easiest Way to Electronically Sign Documents Online
Effortlessly sign, send, track, and collect electronic signatures in minutes with jSign®.
Start requesting signatures with plans as low as $9.99
Electronic Signatures
The Modern Pen and Paper
Electronic signatures have become an essential business tool for today's mobile professionals. jSign® is easy to use and allows you to quickly sign documents online from wherever you are, making it a fast and convenient way to close deals on the go.
What our customers are saying
Courtney B

–

Aflac – Administrator
Julie H

–

Law Office of Julie Hale – Owner
Cynthia T

–

Healthcare Worker – Direct Care
Mark W

–

Hickory Christian Academy- Teacher
Stacy W

–

Go2insurance360 – Sales
How To Request Signatures
Upload
Drag and drop your document to upload. Create initials, date, company name, and signature fields for others to sign.
Invite Others to Sign
Invite others to sign through email. Recipients can upload a handwritten signature, type text, or create an electronic signature using a stylus pen, mouse or trackpad.
Get Notified When Signed
After each recipient finishes signing, you'll instantly receive an email with a link to download the signed document.
Get Document Signing Done Faster
Easily sign PDFs, contracts, legal documents, and invoices online on your computer, laptop or phone. With jSign, there's no need to print, scan, or fax paperwork in order to get approvals and finalize documents. Start signing documents online today and instantly boost productivity.
Real-Time Notification
Get notified instantly when your documents have been signed. You'll receive an email as soon as online signatures are completed.
Sign and Invite Others
In the past, you'd need to drive out and meet with the person you want a signature from. Now with jSign, get an online signature from anyone in the world in minutes with just a few clicks.
Compliant With eSignature Laws & HIPAA
jSign is compliant with all major eSignature laws including UETA and the ESIGN Act. Electronic signatures can serve as evidence during disputes in court. jSign is also HIPAA-compliant, meaning you can safely use it for medical documents.
Document Management in the Cloud
jSign automatically saves all of your signed documents in the cloud. Store and easily access your signed documents online for the life of your account. No more losing track of important documents you may urgently need in the future.
Based on Blockchain Technology
Blockchain tracks every stage of the online signature process from document creation to signing, safeguarding the legality and authenticity of documents by preventing any kind of tampering. When you eSign with jSign, you can rest easy.
Geo Location
Geo Location captures the exact GPS location of a document eSignature and identifies whether it's from a home computer or from a mobile device. Knowing exactly where the user has signed the document can further confirm the validity of the signer.
Certificate of Completion
jSign keeps track of the entire e-signing process. Once the process is complete, a Certificate of Completion is provided as proof of signing the document. Get information such as the device ID, IP address, browser used, latitude and longitude, and timestamp for each electronic signature.
Solutions for Any Business Size
Quick and Easy e-Signatures with jSign
jSign includes:
Use of Common File Types (.pdf, .ppt, .doc, .xls, etc.)

Reminders and Due Dates

Real-Time Notifications

Files Stored in the Cloud for Easy Access

Guest Signing

Two-factor Authentication

Complete Audit Trail

Contact Management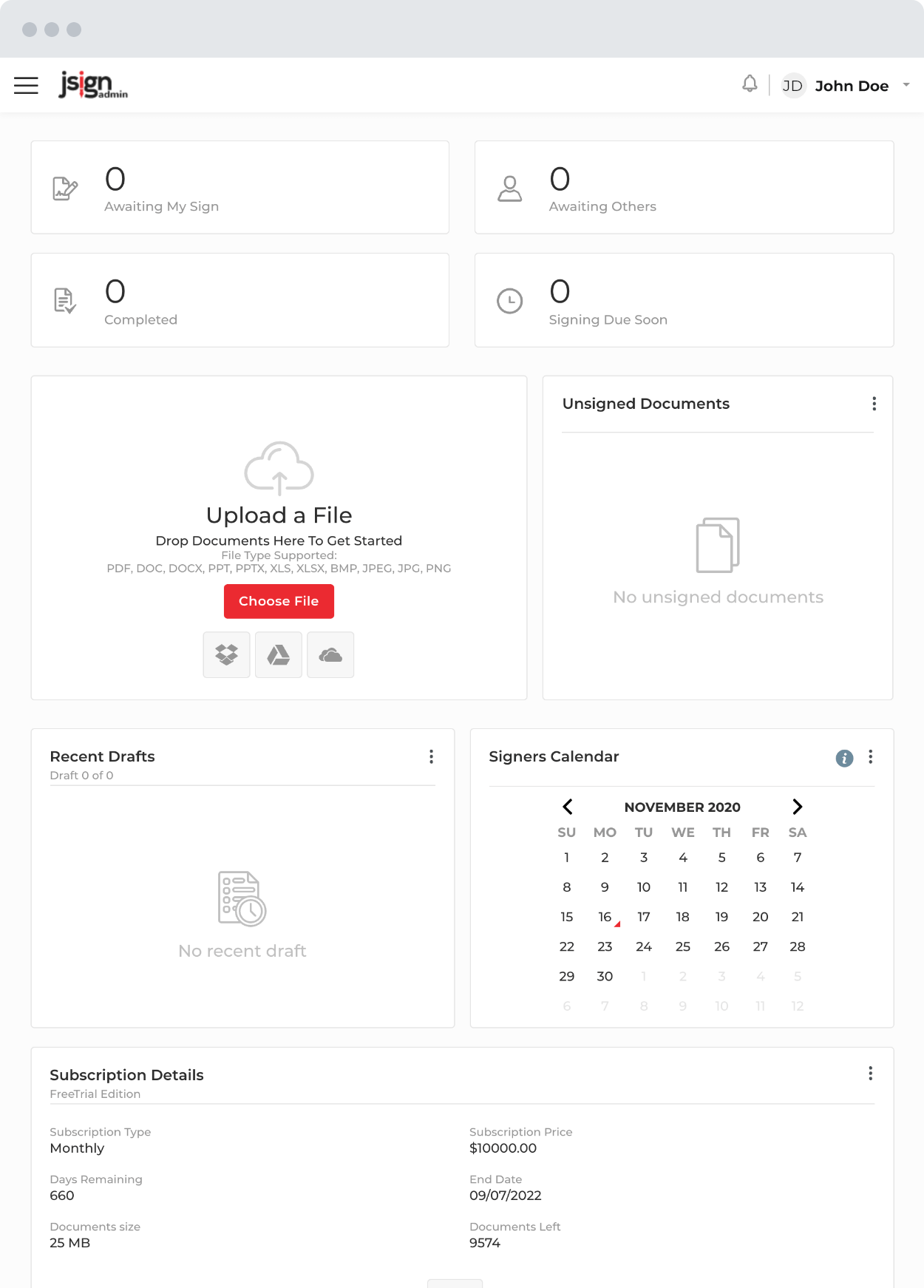 Worry-free Document Signing in the Cloud
Whether you're signing a document or need to collect signatures, jSign makes electronic signing a breeze. Get started today.