Assign Document/Template Limits for Your User
If you are the administrator of a jSign Pro account, the account offers unlimited document signatures, as well as how many times you may use any created templates. You may also add one other user to the account. If you do, then you can:
Either: Share the full document/template privileges with the other user.

Or: Limit the number of documents the user can have signed, as well as how many times they can use any templates you create.
To do the latter:
Click the drop-down arrow next to your name at the top-right of your dashboard, and select Users.

On the User Management screen, click the user's ellipsis icon, then Edit User Details.

Click the Limited Sharing Option > Assign radio button on the User Details screen...

…and in the User Quota Assignment pane that appears:

Document Limit: Uncheck the Unlimited box, and enter the allowed number of documents in the Add to Current Limit textbox.

Template Limit: Enter the number of template uses (out of your plan's subscribed total) to give the user.

To save and exit, click the Save button at the bottom of the screen. When the user logs into their own account, they will see (in the Subscription Details pane of their dashboard) how times they may get document signatures—and use any templates.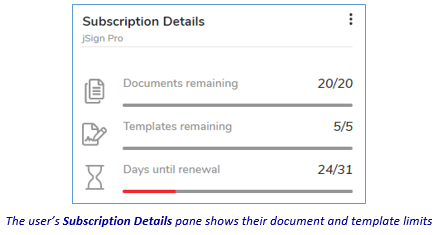 Related Topics